6th Sunday of Easter – May 17
Sing Together
Read Together – John 14:15-21
15 [Jesus said] "If you love me, obey my commandments. 16 And I will ask the Father, and he will give you another Advocate, who will never leave you. 17 He is the Holy Spirit, who leads into all truth. The world cannot receive him, because it isn't looking for him and doesn't recognize him. But you know him, because he lives with you now and later will be in you. 18 No, I will not abandon you as orphans—I will come to you. 19 Soon the world will no longer see me, but you will see me. Since I live, you also will live. 20 When I am raised to life again, you will know that I am in my Father, and you are in me, and I am in you. 21 Those who accept my commandments and obey them are the ones who love me. And because they love me, my Father will love them. And I will love them and reveal myself to each of them."
Watch this video to learn more about the Holy Spirit
Discussion
Have you ever had a time when you were away from people you love? How did you feel? What was it that comforted you if you were sad at that time?
What does the word orphan mean? Jesus said in the story that he wouldn't leave his friends as orphans. What does he promise them?
Jesus says the Holy Spirit will come and live in his followers. This promise is also for us. The Holy Spirit helps us to pray, guides us, and comforts us. How might it feel to have the Holy Spirit?
Jesus said if we love him, we will obey his commands. What might those commands be?
One of Jesus' main commands to his friends at this time was to love each other. How can we show love to those with us this week?
Activities
Colour the Illustrated Ministry pages for today.
More Activities
Write out part of the passage that is comforting to you and decorate it. Put it on the wall in a place where it will be seen this week.
Build a fort and fill it with comforting blankets and pillows. Chat about how we might feel the Holy Spirit comforting us while you are in the fort.
Listen to the song in the video below. It uses the exact words of Jesus from our gospel reading.
Fun Snack Ideas!
Cream puffs or jelly-filled donuts, and describe how they are filled with something special, just like the Holy Spirit fills us.
Chocolate milk- using chocolate syrup. If you just let the chocolate syrup sit in the bottom of the glass, it doesn't do much. But if you STIR it up (like being stirred with God's love), you get delicious chocolatey goodness in every sip!
Sing Together
Pray Together
Dear God,
Thank you for all of the words of Jesus
Thank you for the comfort of your Spirit
Help us to remember what that means
And to live always in your presence
Thank you for your love
We love you, God!
In Jesus name, Amen!
Resources for this Week
https://holycrossyorktown.net/religious-education
https://ministry-to-children.com/jesus-gives-us-comfort-lesson/
https://ministry-to-children.com/holy-spirit-comforter-sermon/
https://sundayschool.works/lessons/holy-spirit-comforter/
---
---
---
---
5th Sunday of Easter – May 10
Sing Together
Read Together – John 14:1-14
"Don't let your hearts be troubled. Trust in God, and trust also in me. 2 There is more than enough room in my Father's home. If this were not so, would I have told you that I am going to prepare a place for you? 3 When everything is ready, I will come and get you, so that you will always be with me where I am. 4 And you know the way to where I am going."

5 "No, we don't know, Lord," Thomas said. "We have no idea where you are going, so how can we know the way?"
6 Jesus told him, "I am the way, the truth, and the life. No one can come to the Father except through me. 7 If you had really known me, you would know who my Father is. From now on, you do know him and have seen him!"

8 Philip said, "Lord, show us the Father, and we will be satisfied."
9 Jesus replied, "Have I been with you all this time, Philip, and yet you still don't know who I am? Anyone who has seen me has seen the Father! So why are you asking me to show him to you? 10 Don't you believe that I am in the Father and the Father is in me? The words I speak are not my own, but my Father who lives in me does his work through me. 11 Just believe that I am in the Father and the Father is in me. Or at least believe because of the work you have seen me do.

12 "I tell you the truth, anyone who believes in me will do the same works I have done, and even greater works, because I am going to be with the Father. 13 You can ask for anything in my name, and I will do it, so that the Son can bring glory to the Father. 14 Yes, ask me for anything in my name, and I will do it!
Watch the Story
Discussion and Activities
What things do you notice in this story?
How does this teaching from Jesus make you feel?
For Younger Children
Hold up a set of keys. Ask the child/children what you have in your hand? What do keys do? Does every key open every door? No. You have to use the right key that's made to fit the right door (chat about what each key you have in your hand is for).
Will any of these keys open up a way for us to be close to God? Is there anything or anyone who can help us to be close to God? Jesus said that he is "the way, the truth and the life." What he means is that he is the way to being close to God and that he is the key to opening God's kingdom to everyone.
In our story, Jesus talks about his "Father's House". What do you imagine his "Father's House" is? What do you imagine it looks like?
Draw or paint the "Father's House."
For Old Children
Did you notice the clouds in the movie that were always drawn around the "Father's House"? Sometimes people think that when Jesus talks about his "Father's House" that he is only talking about going to heaven after we die. But there were other times when Jesus talked about his "Father's House" and very clearly meant somewhere here on earth. Do you remember another time Jesus talked about his "Father's House"? Hint – it's a story about when he was a little boy and his parents lost him when they were visiting the Temple in Jerusalem. In that story, his "Father's House" meant the temple – which is the place where people and God would meet and be connected. Does this meaning of "Father's House" change the way we think about the story we just watched? Maybe Jesus means he is the way to being connected with God, not just in heaven but here and now!
In the video below from the Bible Project you can learn more about how the Temple in Jerusalem was supposed to be the place where God connected with his people and where they connected with him. After you watch the video how it helps us understand what Jesus means when he talks about his "Father's House."
More Discussion and Activities
There is a poem in the Bible that we call 'Psalm 31' which says, "Lord…you are my rock of protection and my fortress." When Jesus talks about preparing a place for us in his "Father's House" do you think he might be talking about a place of protection, like in Psalm 31? How do you think God might protect us?
In another part of the Bible (1Peter 2:5) it talks about followers of Jesus being "living stones that God is building into his spiritual temple." What do you think that might mean?
Talk more about these questions as you work through the Illustrated Ministry activities below.

More Songs!
Pray Together
Dear God,
You are the way, truth, and life.
You are the key to all good things.
You are our home, our refuge, our protection.
Please help us to know how to follow you.
Thank you for unlocking the door to life.
Thank you for protecting us.
We love you!
In Jesus name, Amen!
---
---
---
---
4th Sunday of Easter – May 3
Sing Together
Read Together – John 10:1-10
Jesus said,
"I tell you the truth, anyone who sneaks over the wall of a sheepfold, rather than going through the gate, must surely be a thief and a robber! 2 But the one who enters through the gate is the shepherd of the sheep. 3 The gatekeeper opens the gate for him, and the sheep recognize his voice and come to him. He calls his own sheep by name and leads them out. 4 After he has gathered his own flock, he walks ahead of them, and they follow him because they know his voice. 5 They won't follow a stranger; they will run from him because they don't know his voice."

6 Those who heard Jesus use this illustration didn't understand what he meant, 7 so he explained it to them: "I tell you the truth, I am the gate for the sheep. 8 All who came before mewere thieves and robbers. But the true sheep did not listen to them. 9 Yes, I am the gate. Those who come in through me will be saved. They will come and go freely and will find good pastures. 10 The thief's purpose is to steal and kill and destroy. My purpose is to give them a rich and satisfying life.
Watch the Story
Discuss the Story
Do you have a pet? How do you take care of your pet? Does your pet know your voice when you call his name? Why does your pet come when you call his name?
Do you know what a shepherd does? A shepherd takes care of his sheep and looks after them. He feeds his sheep with good green grass and good drinking water. He leads and guides and protects them for any danger. If a wolf or bear came to try to attack the sheep, the shepherd would protect his sheep.
How is Jesus like a shepherd for us?
Jesus also says he is the gate for the sheep. What do you think he means?
Activities
Download, print and colour the picture below from Illustrated Ministry
Look up and read Psalm 23 – paint or illustrate a scene from the psalm, or from the reading from John.
Draw a picture of a sheep and glue cotton balls onto the sheep. Draw and fence with a gate.
Hide and sheep – Children (sheep) hide, and a grown up (shepherd) finds them. If the shepherd can't find them, they should call the sheep's name. The sheep has to follow the voice and come to the shepherd. Take turns with different shepherds and sheep.
Sing Together
Snack Ideas
Sheep cookies – make some sugar cookies and use some white fluffy icing on top and you could sprinkle with white coconut.
Popcorn sheep: 6 c popcorn popped, 3 tbsp butter, 8 oz marshmallows. Melt margarine, add marshmallows stir until fluffy and add popcorn. Mix well and let cool. Before you start: Use 1 tsp. margarine to rub on hands to easily work with popcorn mixture. Form cup of popcorn mixture into shape of sheep. Use black licorice or pretzels for legs. Cut small circle of licorice or chocolate chips for eyes and nose. Miniature marshmallows can be used for tail and ears.
Pray Together
Dear God,
Thank you for being the Good Shepherd.
Help us to listen for your voice
And to follow you and trust you.
We know you will guide us and protect us.
Thank you for caring about us.
We love you, God!
In Jesus name, Amen!
Sources:
IllustratedMinistry.com
ministry-to-children.com/the-good-shepherd-childrens-sermon/
---
---
---
---
3rd Sunday of Easter – April 26
Sing Together
Read Together – Luke 24:13-35
13 That same day two of Jesus' followers were walking to the village of Emmaus, seven milesfrom Jerusalem. 14 As they walked along they were talking about everything that had happened. 15 As they talked and discussed these things, Jesus himself suddenly came and began walking with them. 16 But God kept them from recognizing him.

17 He asked them, "What are you discussing so intently as you walk along?"

They stopped short, sadness written across their faces. 18 Then one of them, Cleopas, replied, "You must be the only person in Jerusalem who hasn't heard about all the things that have happened there the last few days."

19 "What things?" Jesus asked.
"The things that happened to Jesus, the man from Nazareth," they said. "He was a prophet who did powerful miracles, and he was a mighty teacher in the eyes of God and all the people. 20 But our leading priests and other religious leaders handed him over to be condemned to death, and they crucified him. 21 We had hoped he was the Messiah who had come to rescue Israel. This all happened three days ago.

22 "Then some women from our group of his followers were at his tomb early this morning, and they came back with an amazing report. 23 They said his body was missing, and they had seen angels who told them Jesus is alive! 24 Some of our men ran out to see, and sure enough, his body was gone, just as the women had said."

25 Then Jesus said to them, "You foolish people! You find it so hard to believe all that the prophets wrote in the Scriptures. 26 Wasn't it clearly predicted that the Messiah would have to suffer all these things before entering his glory?" 27 Then Jesus took them through the writings of Moses and all the prophets, explaining from all the Scriptures the things concerning himself.

28 By this time they were nearing Emmaus and the end of their journey. Jesus acted as if he were going on, 29 but they begged him, "Stay the night with us, since it is getting late." So he went home with them. 30 As they sat down to eat, he took the bread and blessed it. Then he broke it and gave it to them. 31 Suddenly, their eyes were opened, and they recognized him. And at that moment he disappeared!

32 They said to each other, "Didn't our hearts burn within us as he talked with us on the road and explained the Scriptures to us?" 33 And within the hour they were on their way back to Jerusalem. There they found the eleven disciples and the others who had gathered with them, 34 who said, "The Lord has really risen! He appeared to Peter."

35 Then the two from Emmaus told their story of how Jesus had appeared to them as they were walking along the road, and how they had recognized him as he was breaking the bread.
Watch the Story Together
Discuss the Story Together
When have you felt disappointed about something?
Have you ever talked to someone and not realized who they were at first?
Has there ever been something you didn't understand right away, and figured out later? What helped you to understand?
How would you feel if you had known about the death of Jesus, and then heard people talking about Him being alive?
Reflection Activities
Colour the pictures from Illustrated Ministry. Take time to wonder about the story together as you colour.
Draw the Story – Before Jesus joined them, Cleopas and his companion were walking on the road to Emmaus. During the time Jesus was with them, they talked with him and invited him to dinner. After they recognized it was Jesus, he vanished! Draw a picture of what you think it looked like before, during, and after their time with Jesus.
Seeing from a different perspective – Write the Bible verse (Luke 24:31) in very small print on a piece of paper and put it up on the wall. Use a pair of binoculars and see if you can read what the bible verse says from across the room? You could always go outside and take turns using the binocular to SEE THINGS from far away that you have never seen or noticed before. Can you figure out how this might be related to our story for today?
Guessing game – What IS it? – Parents will have to gather up some odd objects/gadgets around the house. Parents will hold up the odd objects/gadgets, and then have the kids guess what the objects are. A valid guess will be to guess the name of the object/gadget or what the object/gadget is used for or the action for it. For example: Just think how hard it would be to guess what a "mouth harp" was if you didn't even know what a musical instrument was? The focus of the activity is that just because we can see something, doesn't necessarily mean that we recognize it, just like the disciples in the story see resurrected Jesus, but don't recognize him.
Guessing Game Discussion:
The objects were right in front of you – why didn't you get the answer right away?
What helped you to figure out what this object is?
This game is like what the disciples experienced in today's Bible story. The resurrected Jesus was right in front of them but they didn't recognize him. Do you think you would recognize him? What would he look like?
Do you think the resurrected Jesus looked different from the regular Jesus?
Pray Together
Dear God, thank you for this story and for teaching us that through your Son new life has come and will come even through suffering. Help us to be gentle with each other in our suffering and show us signs of new life. Amen.
---
---
---
---
2nd Sunday of Easter – April 19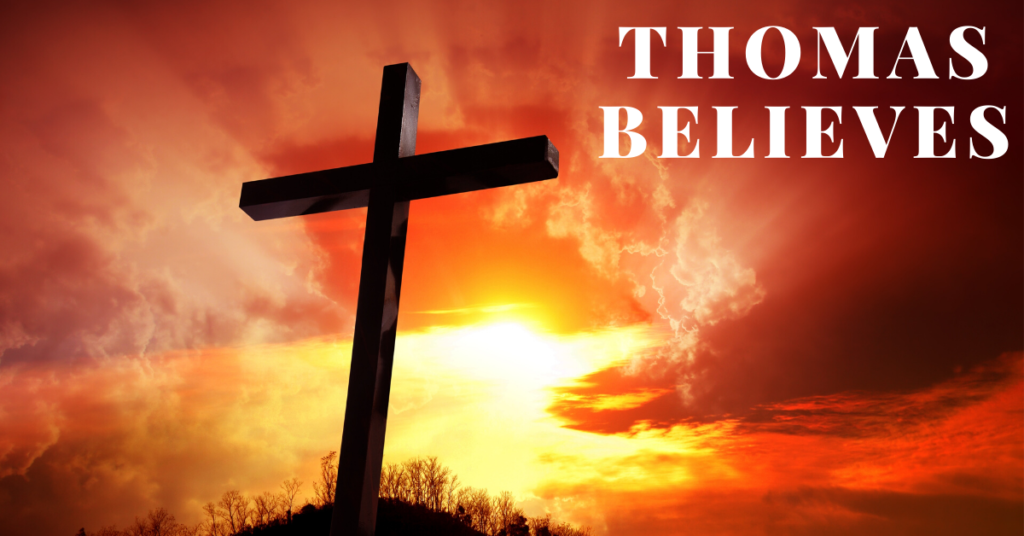 Read Together – John 20:19-31
19 That Sunday eveningthe disciples were meeting behind locked doors because they were afraid of the Jewish leaders. Suddenly, Jesus was standing there among them! "Peace be with you," he said. 20 As he spoke, he showed them the wounds in his hands and his side. They were filled with joy when they saw the Lord! 21 Again he said, "Peace be with you. As the Father has sent me, so I am sending you." 22 Then he breathed on them and said, "Receive the Holy Spirit. 23 If you forgive anyone's sins, they are forgiven. If you do not forgive them, they are not forgiven."
24 One of the twelve disciples, Thomas (nicknamed the Twin), was not with the others when Jesus came. 25 They told him, "We have seen the Lord!"
But he replied, "I won't believe it unless I see the nail wounds in his hands, put my fingers into them, and place my hand into the wound in his side."
26 Eight days later the disciples were together again, and this time Thomas was with them. The doors were locked; but suddenly, as before, Jesus was standing among them. "Peace be with you," he said. 27 Then he said to Thomas, "Put your finger here, and look at my hands. Put your hand into the wound in my side. Don't be faithless any longer. Believe!"
28 "My Lord and my God!" Thomas exclaimed.
29 Then Jesus told him, "You believe because you have seen me. Blessed are those who believe without seeing me."
30 The disciples saw Jesus do many other miraculous signs in addition to the ones recorded in this book. 31 But these are written so that you may continue to believe that Jesus is the Messiah, the Son of God, and that by believing in him you will have life by the power of his name.
Watch the Story
Discuss the Story
Is there a difference between believing in strange facts about animals and believing Jesus rose from the dead?
I wonder how all of these disciples felt when they saw Jesus?
I wonder how the disciples felt when Thomas would not believe?
I wonder how Thomas felt to hear all of his friends say that Jesus was alive?
I wonder how Thomas felt when Jesus said take your hands and put them in my hands and in my side?
What helps you to believe?
Jesus was kind to Thomas and assured him that his feelings were okay. What kinds of things do you need when you have big feelings, like being frustrated, upset, or sad?
Reflection Activities
There are more activities here than any one child can do – please feel free pick and choose what is appropriate and interesting.
Colour and chat about the activity sheets from Illustrated Ministry.
Some unexpected things happened in this story. After being crucified, Jesus was alive again! He appeared in a locked room to His disciples. The disciples saw Jesus' wounds. Jesus shared the peace with them and gave them the Holy Spirit. Jesus' appearance gave his followers a new understanding of community. Divide this story into three major parts – Illustrate the three major scenes.
Even though he was one of Jesus' closest friends, Thomas had big doubts and questions about whether Jesus was really alive again. God is not disappointed by our questions or doubts! Write down any questions you have about God and talk about them together.
Even though Thomas didn't believe the other disciples were telling the truth, they still remained his friends. We can disagree with people and still love them. Pray for someone you have disagreed with recently.
Pray Together
Dear Father, Thank you for this story about Jesus, Thomas, and the disciples. Help us show kindness and love to one another, especially when big feelings arise. Give us the strength to say what we need, and help us to believe even though we have not seen you. Amen.
---
---
---
---
Easter Sunday April 12
Jesus Rises Again!
Read Together – John 20: 1-18
Early on Sunday morning, while it was still dark, Mary Magdalene came to the tomb and found that the stone had been rolled away from the entrance. 2 She ran and found Simon Peter and the other disciple, the one whom Jesus loved. She said, "They have taken the Lord's body out of the tomb, and we don't know where they have put him!"

3 Peter and the other disciple started out for the tomb. 4 They were both running, but the other disciple outran Peter and reached the tomb first. 5 He stooped and looked in and saw the linen wrappings lying there, but he didn't go in. 6 Then Simon Peter arrived and went inside. He also noticed the linen wrappings lying there, 7 while the cloth that had covered Jesus' head was folded up and lying apart from the other wrappings. 8 Then the disciple who had reached the tomb first also went in, and he saw and believed— 9 for until then they still hadn't understood the Scriptures that said Jesus must rise from the dead. 10 Then they went home.

11 Mary was standing outside the tomb crying, and as she wept, she stooped and looked in. 12 She saw two white-robed angels, one sitting at the head and the other at the foot of the place where the body of Jesus had been lying. 13 "Dear woman, why are you crying?" the angels asked her.
"Because they have taken away my Lord," she replied, "and I don't know where they have put him."

14 She turned to leave and saw someone standing there. It was Jesus, but she didn't recognize him. 15 "Dear woman, why are you crying?" Jesus asked her. "Who are you looking for?"

She thought he was the gardener. "Sir," she said, "if you have taken him away, tell me where you have put him, and I will go and get him."
16 "Mary!" Jesus said. She turned to him and cried out, "Rabboni!" (which is Hebrew for "Teacher").

17 "Don't cling to me," Jesus said, "for I haven't yet ascended to the Father. But go find my brothers and tell them, 'I am ascending to my Father and your Father, to my God and your God.'"

18 Mary Magdalene found the disciples and told them, "I have seen the Lord!" Then she gave them his message.
Watch the Story
Discuss the Story
How do you think Mary felt at the start of the story? How do you think she felt at the end of the story?
Have you ever felt sad and then, right away, suddenly felt happy? What made you feel sad, and then what made you feel happy?
Where do you imagine yourself in this story? Why?
How can the surprise and joy from this story change the way we think about our lives today?
---
Snack Idea – Resurrection Rolls
What you need: Large marshmallows, melted butter or margarine, cinnamon sugar mixture, crescent rolls (ready to bake) or homemade biscuit dough
What to do: First wash hands. Give each person a marshmallow (it represents Jesus). Roll it in the butter – the anointing oil. Then roll it in the cinnamon sugar (the anointing spices). Place the marshmallow on the crescent roll or dough (the tomb) and roll it up so it is completely sealed (this is important). Place each roll onto parchment paper. Then bake it as the directions indicate. When the rolls cool, give each child a roll. When the tomb is open, the marshmallow is gone!
---
Reflection Activities
Download, print and colour the activity sheets below from IllustratedMinistry.com
More Activities
Go on a nature walk with your family (maintaining social distancing). What miracles can you find on your walk? God did the best miracle on Easter! After Jesus died on the cross, God raised him to new life. When we look out the window in winter, everything looks dead. The ground doesn't have anything growing in it. But when spring comes (and the snow finally melts), everything comes to life! Beautiful new flowers pop up out of the ground! New baby birds hatch out of their eggs! Pretty baby butterflies burst out of cocoons! Did you know that God is the one who makes all these wonderful miracles happen? What miracles do you see today?
Use chalk on your driveway with symbols, praise words, and colorful designs.
Roll the Egg Game –

Supplies: plastic eggs or hard-boiled eggs (1 for each person), file folders or pieces of card stock (1 for each person).

Things didn't go the way Jesus' friends thought they should go. Jesus died, and when they went to his tomb they couldn't find his body! Here is a game to help us experience a little of that feeling.

Each person takes an egg and a piece of card stock. Starting at the same time, try to fan the egg in a straight line across the room to the other side. You can't touch the egg unless it rolls into a wall or gets stuck.

Does it work? Or do those eggs have a mind of their own? How did that make you feel? In real life, how do you feel when things don't go the way you'd hoped?

When Jesus died, his friends may have felt [repeat some of the words the children share, such as frustrated, disappointed, or afraid]. Things seemed out of control for them. But even though Jesus' death and resurrection seemed out of control to Jesus' friends, the ending was better than they could've imagined! Jesus is alive! We don't have to feel hopeless because we have the hope of living forever with Jesus. Jesus came back to life so we can live forever.
---
Sing Together
Here are some resurrection-themed VBS songs with lots of actions to help you get your worship groove on.
---
Pray Together
Hooray! Hallelujah! Jesus is alive! Jesus loves us! Jesus is always with us! Help us share the good news of Easter.
Amen.
---
---
---
---
Maundy Thursday & Good Friday
Below you will find readings, videos, activities and prayers for both Maundy Thursday and Good Friday. Feel free to use this material in whatever way you wish and at whatever pace works best for you. If you want to look at some or all of the Maundy Thursday material on Maunday Thursday and save the Good Friday material for Good Friday, go ahead. Or, if you want to save it all for Good Friday more power to you!
Also, please note that while the biblical account of Jesus' crucifixion is not graphic, some may still find it disturbing. It's also quite lengthy, so use your discretion as to what you think your children can handle; alternatively, you could just watch the video.
Maundy Thursday
Read Together: John 13:1-17, 31b-35
Before the Passover celebration, Jesus knew that his hour had come to leave this world and return to his Father. He had loved his disciples during his ministry on earth, and now he loved them to the very end.2 It was time for supper, and the devil had already prompted Judas, son of Simon Iscariot, to betray Jesus. 3 Jesus knew that the Father had given him authority over everything and that he had come from God and would return to God. 4 So he got up from the table, took off his robe, wrapped a towel around his waist, 5 and poured water into a basin. Then he began to wash the disciples' feet, drying them with the towel he had around him.

6 When Jesus came to Simon Peter, Peter said to him, "Lord, are you going to wash my feet?"
7 Jesus replied, "You don't understand now what I am doing, but someday you will."
8 "No," Peter protested, "you will never ever wash my feet!"
Jesus replied, "Unless I wash you, you won't belong to me."
9 Simon Peter exclaimed, "Then wash my hands and head as well, Lord, not just my feet!"

10 Jesus replied, "A person who has bathed all over does not need to wash, except for the feet, to be entirely clean. And you disciples are clean, but not all of you." 11 For Jesus knew who would betray him. That is what he meant when he said, "Not all of you are clean."

12 After washing their feet, he put on his robe again and sat down and asked, "Do you understand what I was doing? 13 You call me 'Teacher' and 'Lord,' and you are right, because that's what I am. 14 And since I, your Lord and Teacher, have washed your feet, you ought to wash each other's feet. 15 I have given you an example to follow. Do as I have done to you. 16 I tell you the truth, slaves are not greater than their master. Nor is the messenger more important than the one who sends the message. 17 Now that you know these things, God will bless you for doing them."

"The time has come for the Son of Man to enter into his glory, and God will be glorified because of him. 32 And since God receives glory because of the Son, he will give his own glory to the Son, and he will do so at once. 33 Dear children, I will be with you only a little longer. And as I told the Jewish leaders, you will search for me, but you can't come where I am going. 34 So now I am giving you a new commandment: Love each other. Just as I have loved you, you should love each other. 35 Your love for one another will prove to the world that you are my disciples."
Watch the Story
Discuss the Story
What parts of this story stand out to you?
Could you imagine being there? What would that have been like?
Where do you see yourself in this story?
What questions do you have about this story?
Activities
Foot Washing: In Jesus time, people didn't often wear shoes like we do now – they only wore sandals. Their feet would get very dusty and dirty. Can you imagine walking down the road where the cow, horses and chickens have walked and what would be on your feet? When Jesus washed the disciples' feet, he was washing off some pretty dirty stuff. But he was also showing a deeper truth about how he needs to wash our hearts to clean us from sin. If you want to, try taking turns washing each other's feet. You will need a basin of water and some towels. Chat with each other about how it makes you feel.
A Very Special Snack: If you have some bread and juice, perhaps you can share it together, the way Jesus shared bread and wine with his disciples.
A Maundy Thursday Prayer: Jesus – we ask that you wash us clean, just as you washed the disciples' feet. Thank you for all the difficult and painful things you went through for us. Help us to know and remember how deeply you love us, and help us to show that same love to others. Amen.
Watch what happened next
After Jesus ate supper with his friends he went with them to a garden to pray. Watch to video below to find out what happened next.
---
Good Friday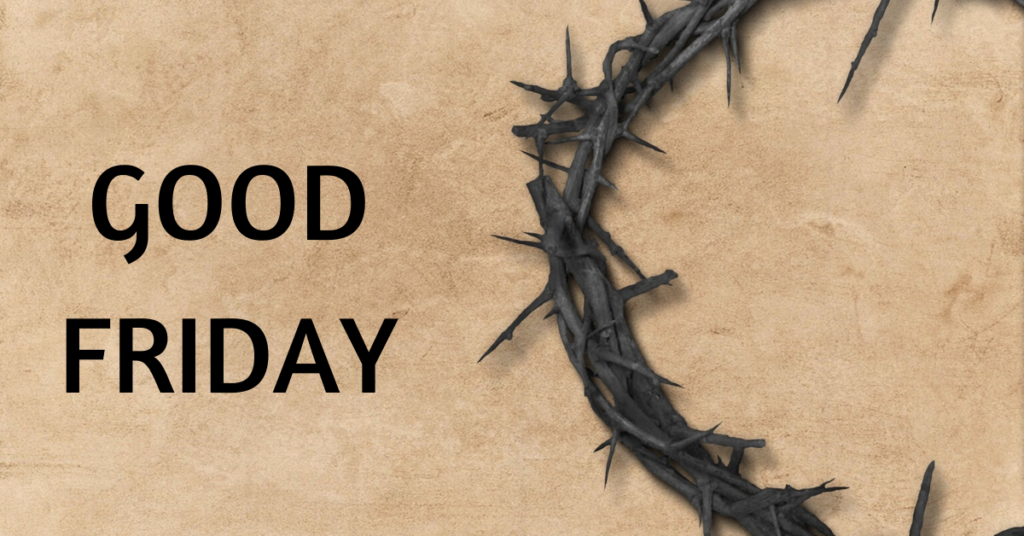 Read Together: John 19
(NOTE: Parents – feel free to shorten this reading, or use a version you have in a Children's Bible…this is a disturbing reading, so use your discretion as to what you children can handle; alternatively, you could just watch the video below)
19 Then Pilate had Jesus flogged with a lead-tipped whip. 2 The soldiers wove a crown of thorns and put it on his head, and they put a purple robe on him. 3 "Hail! King of the Jews!" they mocked, as they slapped him across the face.

4 Pilate went outside again and said to the people, "I am going to bring him out to you now, but understand clearly that I find him not guilty." 5 Then Jesus came out wearing the crown of thorns and the purple robe. And Pilate said, "Look, here is the man!"
6 When they saw him, the leading priests and Temple guards began shouting, "Crucify him! Crucify him!"
"Take him yourselves and crucify him," Pilate said. "I find him not guilty."
7 The Jewish leaders replied, "By our law he ought to die because he called himself the Son of God."

8 When Pilate heard this, he was more frightened than ever. 9 He took Jesus back into the headquartersagain and asked him, "Where are you from?" But Jesus gave no answer. 10 "Why don't you talk to me?" Pilate demanded. "Don't you realize that I have the power to release you or crucify you?"
11 Then Jesus said, "You would have no power over me at all unless it were given to you from above. So the one who handed me over to you has the greater sin."

12 Then Pilate tried to release him, but the Jewish leaders shouted, "If you release this man, you are no 'friend of Caesar.'Anyone who declares himself a king is a rebel against Caesar."
13 When they said this, Pilate brought Jesus out to them again. Then Pilate sat down on the judgment seat on the platform that is called the Stone Pavement (in Hebrew, Gabbatha). 14 It was now about noon on the day of preparation for the Passover. And Pilate said to the people, "Look, here is your king!"
15 "Away with him," they yelled. "Away with him! Crucify him!"
"What? Crucify your king?" Pilate asked.
"We have no king but Caesar," the leading priests shouted back.
16 Then Pilate turned Jesus over to them to be crucified.

The Crucifixion

So they took Jesus away. 17 Carrying the cross by himself, he went to the place called Place of the Skull (in Hebrew, Golgotha). 18 There they nailed him to the cross. Two others were crucified with him, one on either side, with Jesus between them. 19 And Pilate posted a sign on the cross that read, "Jesus of Nazareth, the King of the Jews." 20 The place where Jesus was crucified was near the city, and the sign was written in Hebrew, Latin, and Greek, so that many people could read it.

21 Then the leading priests objected and said to Pilate, "Change it from 'The King of the Jews' to 'He said, I am King of the Jews.'"
22 Pilate replied, "No, what I have written, I have written."

23 When the soldiers had crucified Jesus, they divided his clothes among the four of them. They also took his robe, but it was seamless, woven in one piece from top to bottom. 24 So they said, "Rather than tearing it apart, let's throw dice for it." This fulfilled the Scripture that says, "They divided my garments among themselves and threw dice for my clothing." So that is what they did.

25 Standing near the cross were Jesus' mother, and his mother's sister, Mary (the wife of Clopas), and Mary Magdalene. 26 When Jesus saw his mother standing there beside the disciple he loved, he said to her, "Dear woman, here is your son." 27 And he said to this disciple, "Here is your mother." And from then on this disciple took her into his home.

The Death of Jesus

28 Jesus knew that his mission was now finished, and to fulfill Scripture he said, "I am thirsty." 29 A jar of sour wine was sitting there, so they soaked a sponge in it, put it on a hyssop branch, and held it up to his lips. 30 When Jesus had tasted it, he said, "It is finished!" Then he bowed his head and gave up his spirit.

31 It was the day of preparation, and the Jewish leaders didn't want the bodies hanging there the next day, which was the Sabbath (and a very special Sabbath, because it was Passover week). So they asked Pilate to hasten their deaths by ordering that their legs be broken. Then their bodies could be taken down. 32 So the soldiers came and broke the legs of the two men crucified with Jesus. 33 But when they came to Jesus, they saw that he was already dead, so they didn't break his legs. 34 One of the soldiers, however, pierced his side with a spear, and immediately blood and water flowed out. 35 (This report is from an eyewitness giving an accurate account. He speaks the truth so that you also may continue to believe.) 36 These things happened in fulfillment of the Scriptures that say, "Not one of his bones will be broken," 37 and "They will look on the one they pierced."

The Burial of Jesus

38 Afterward Joseph of Arimathea, who had been a secret disciple of Jesus (because he feared the Jewish leaders), asked Pilate for permission to take down Jesus' body. When Pilate gave permission, Joseph came and took the body away. 39 With him came Nicodemus, the man who had come to Jesus at night. He brought about seventy-five poundsof perfumed ointment made from myrrh and aloes. 40 Following Jewish burial custom, they wrapped Jesus' body with the spices in long sheets of linen cloth. 41 The place of crucifixion was near a garden, where there was a new tomb, never used before. 42 And so, because it was the day of preparation for the Jewish Passoverand since the tomb was close at hand, they laid Jesus there.
Watch the Story
Discuss the Story
How do you feel when you read or watched this story?
Could you imagine being there? What would that have been like?
Where do you see yourself in the story?
Is there a difference in the way we feel about the story, since we know how it ends?
Activities
Act It Out: In the corner of the room, make a tomb by setting a large box on its side or using the kitchen table. Cover the box or kitchen table with a thick blanket. Take a flashlight and turn it on and place it inside the box or under the table. Find a large pillow and pretend it's a great big stone. Imagine you are Jesus' friends and followers putting Jesus in the tomb and imagine how they would feel. Then imagine you are the soldiers rolling the stone in front of the tomb and guarding the tomb and imagine how they would feel. As you sit together outside your imaginary tomb maybe you could pray the prayer that's below.
Prayer: Dear Jesus, thank you for loving us. The story of your death makes us feel sad. Please help us to feel your presence and comfort during times that are sad. Thank you for the sad and difficult things you went through – especially for dying on the cross. We are so glad this isn't the end of the story! Amen
Easter Gardens: Use the instructions below to make an Easter Garden. Close your eyes and picture Jesus' tomb. In what ways does your Easter Garden look like Jesus' tomb? It what ways does it look different? If you plant some grass seed in your garden it will start to grow in a week or two. Planting the seeds and watching the grass grow can remind you that even though Jesus died and was buried, like a seed, Jesus rose again and is alive, like the grass!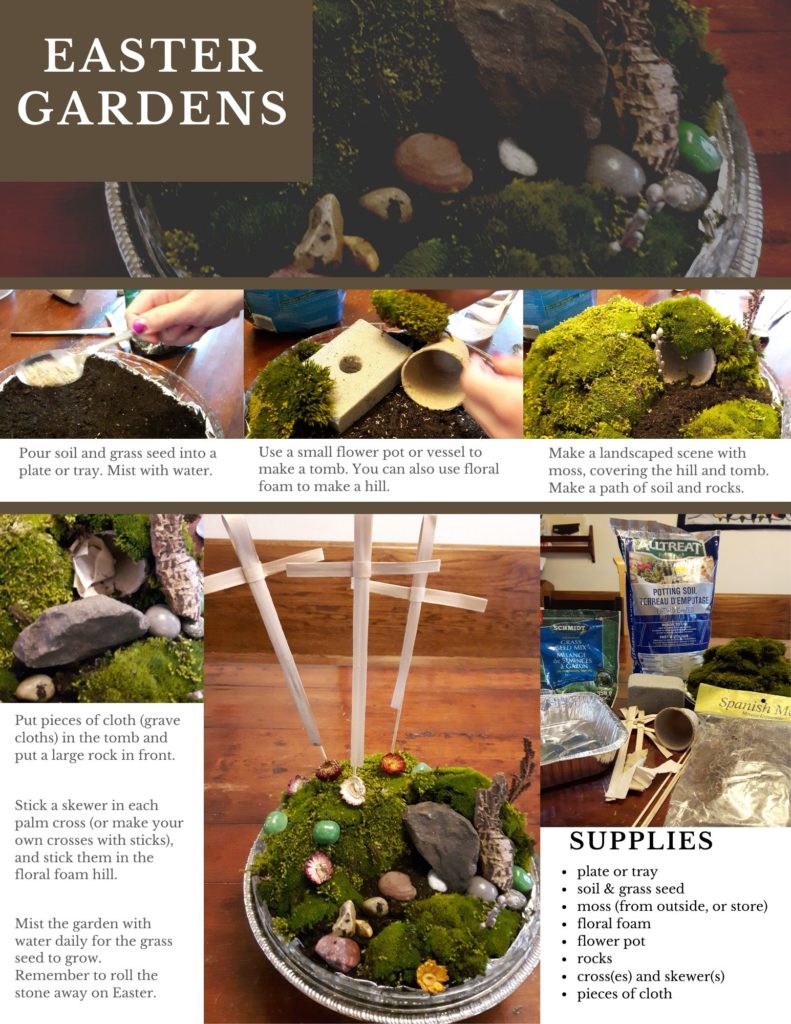 Bake Hot Crossed Buns: Here's a really good recipe at premeditatedleftovers.com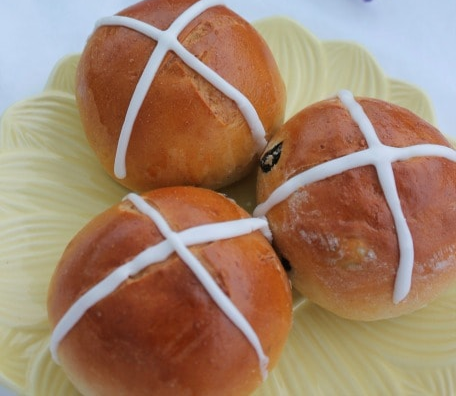 Come back soon for more Sunday (Home) School activities for Easter!
---
---
---
---
Sunday April 5 – Palm Sunday
This Sunday marks the first day of "Holy Week." During Holy Week, we remember the events of Jesus's last week on earth. On Palm Sunday we remember when people welcomed Jesus as He made His entry into Jerusalem. They waved palm branches in celebration as he rode in on a donkey – at that time, making a carpet of palms and waving palm branches was the accepted way of welcoming a hero.
Read Together: Matthew 21:1-11
As Jesus and the disciples approached Jerusalem, they came to the town of Bethphage on the Mount of Olives. Jesus sent two of them on ahead. 2 "Go into the village over there," he said. "As soon as you enter it, you will see a donkey tied there, with its colt beside it. Untie them and bring them to me. 3 If anyone asks what you are doing, just say, 'The Lord needs them,' and he will immediately let you take them."
4 This took place to fulfill the prophecy that said,
5 "Tell the people of Jerusalem,
'Look, your King is coming to you.
He is humble, riding on a donkey—
riding on a donkey's colt.'"

6 The two disciples did as Jesus commanded. 7 They brought the donkey and the colt to him and threw their garments over the colt, and he sat on it. 8 Most of the crowd spread their garments on the road ahead of him, and others cut branches from the trees and spread them on the road. 9 Jesus was in the center of the procession, and the people all around him were shouting,
"Praise God for the Son of David!
Blessings on the one who comes in the name of the Lord!
Praise God in highest heaven!"
10 The entire city of Jerusalem was in an uproar as he entered. "Who is this?" they asked.
11 And the crowds replied, "It's Jesus, the prophet from Nazareth in Galilee."
Watch the Story
Discuss the Story
What do you think it would have been like to be in Jerusalem when Jesus came into the city?
Where are you in this story?
The crowd that gathered to welcome Jesus laid palms on the ground – a welcome for kings and royalty. How do we welcome important people today?
Reflection Activities
Colour any or all of these sheets as you reflect on the Gospel story.
Some Reflections on the Gospel Story
(from Illustrated Children's Ministry, 2020)
On Palm Sunday, we celebrate Jesus' triumphant entry into Jerusalem. His teachings have spread, and his following has grown. As he rides into the city, people greet him with cheers and fanfare. There is a sense of joy, relief, and hope among the people. Jesus brings good news for the hurting, sick, impoverished, outcasts, and all who are oppressed by people in power. All along his path, the people wave palm fronds and shout, "Hosanna! Hosanna in the highest!" in celebration of his arrival.
This parade is also an act of rebellion. Jesus has already frustrated the people in power. His procession only angers them more. After this day of rejoicing, things change quickly. Jesus' message about God's kingdom uplifting the powerless made people who held lots of power feel threatened. Jesus knows hard things lie ahead during Holy Week, but for his followers, it was a sudden and unsettling shift. In a matter of days, Jesus' world and that of his followers turned completely upside down. He went from being cheered to jeered at by the people, from being supported to betrayed.
Jesus tried to prepare his friends for what was coming while they had one last meal together, and he washed their feet; it was very hard for them to believe it. Jesus was abandoned by his closest friends, perhaps because they were terrified of what would happen to them for their connection to Jesus. Joy, relief, and hope were replaced by fear, loneliness, isolation, worry, and uncertainty about the future.
We know something about the world suddenly changing right now because of the COVID-19 pandemic. We are experiencing a significant shift – a shift from joy and community to fear and uncertainty and loneliness. As we go through Holy Week, we remember how Jesus and all who loved him experienced fear, loneliness, pain, and even death. Maybe it feels a little overwhelming to enter into the heaviness of Holy Week when there are already so many hard things happening all around us.
But there is also good news in Holy Week.
It reminds us Jesus has felt what we feel, and he is with us even when we feel scared and alone. In Jesus, we see the promise that no matter how hard things get, even in the face of death itself, there is still the promise of resurrection, of new life. Every year we celebrate Holy Week to remember that in ordinary times and in the most challenging times, God is present with us and at work creating new life.
Things may look different afterward, there can be real loss, grief, and hardship, but we hold onto the promise of resurrection: new life will happen when the hard times have passed. So on this Palm Sunday, wherever we are, we wave our palms defiantly—finding joy and hope in the promise of new life and of Jesus with us.
More Reflection Activities
Prepare a road for Jesus by placing coats down. Have someone pretend to be the donkey and someone pretend to be Jesus. Others can wave palm branches (maybe the ones you coloured), shouting "Blessed is he who comes in the name of the Lord" and "Hosanna in the Highest."
Using washable poster paint, create a "stained glass" style image in your front window. You can use painter's tape (the green stuff) to create smaller sections of different colours, and then remove the tape when the paint is dry. You might want an image of a palm, or a cross, or something else that represents part of the Easter story. Maybe you can add to it throughout Holy Week, especially on Good Friday and Easter Sunday!
Pray Together
Dear Jesus, your love makes us want to shout and sing! We're so glad you came to love and care for us. Help us to remember your love and the hope you bring as we journey with you during Holy Week. Amen.
---
---
---
---
Sunday March 29
'Jesus raises Lazarus'
The Gospel of John chapter 11 tells the amazing story of Jesus bringing his friend Lazarus back to life! this story also contains the shortest verse in the Bible, John 11:35, which says, "Jesus wept." It's a reminder that Jesus is with us when we are sad and he feels our sadness too.
Read the passage together:
John 11:1-7, 17-45 (New Living Translation)
A man named Lazarus was sick. He lived in Bethany with his sisters, Mary and Martha. This is the Mary who later poured the expensive perfume on the Lord's feet and wiped them with her hair. Her brother, Lazarus, was sick. So the two sisters sent a message to Jesus telling him, "Lord, your dear friend is very sick."

But when Jesus heard about it he said, "Lazarus's sickness will not end in death. No, it happened for the glory of God so that the Son of God will receive glory from this." So although Jesus loved Martha, Mary, and Lazarus, he stayed where he was for the next two days. Finally, he said to his disciples, "Let's go back to Judea."

When Jesus arrived at Bethany, he was told that Lazarus had already been in his grave for four days. Bethany was only a few miles down the road from Jerusalem, and many of the people had come to console Martha and Mary in their loss.

When Martha got word that Jesus was coming, she went to meet him. But Mary stayed in the house. Martha said to Jesus, "Lord, if only you had been here, my brother would not have died. But even now I know that God will give you whatever you ask." Jesus told her, "Your brother will rise again." "Yes," Martha said, "he will rise when everyone else rises, at the last day."

Jesus told her, "I am the resurrection and the life. Anyone who believes in me will live, even after dying. Everyone who lives in me and believes in me will never ever die. Do you believe this, Martha?"

"Yes, Lord," she told him. "I have always believed you are the Messiah, the Son of God, the one who has come into the world from God." Then she returned to Mary. She called Mary aside from the mourners and told her, "The Teacher is here and wants to see you." So Mary immediately went to him.

Jesus had stayed outside the village, at the place where Martha met him. When the people who were at the house consoling Mary saw her leave so hastily, they assumed she was going to Lazarus's grave to weep. So they followed her there. When Mary arrived and saw Jesus, she fell at his feet and said, "Lord, if only you had been here, my brother would not have died."

When Jesus saw her weeping and saw the other people wailing with her, a deep anger welled up within him, and he was deeply troubled. "Where have you put him?" he asked them.

They told him, "Lord, come and see." Then Jesus wept. The people who were standing nearby said, "See how much he loved him!" But some said, "This man healed a blind man. Couldn't he have kept Lazarus from dying?"

Jesus was still angry as he arrived at the tomb, a cave with a stone rolled across its entrance. "Roll the stone aside," Jesus told them. But Martha, the dead man's sister, protested, "Lord, he has been dead for four days. The smell will be terrible."

Jesus responded, "Didn't I tell you that you would see God's glory if you believe?" So they rolled the stone aside. Then Jesus looked up to heaven and said, "Father, thank you for hearing me. You always hear me, but I said it out loud for the sake of all these people standing here, so that they will believe you sent me."

Then Jesus shouted, "Lazarus, come out!" And the dead man came out, his hands and feet bound in graveclothes, his face wrapped in a headcloth. Jesus told them, "Unwrap him and let him go!" Many of the people who were with Mary believed in Jesus when they saw this happen.
Watch a video of the passage:
A Video for Younger Children
A Video for Older Children
Explore the Gospel
Discuss it…
Who are the main characters?
Where does Jesus show up? What does he do?
What do you like about this story? What do your find strange or surprising?
Play the 'Parachute Tomb Game'
Grab your biggest bed sheet
Have kids squat around the edge of the "parachute", holding its edges
Remember how Lazarus's sisters were sad when Lazarus died and was put in a tomb. But Jesus that did something amazing!
Call out: "Oh no! Lazarus is in the tomb!" Have the kids raise the parachute, pull it over their heads, and then sit on the edges to create a tent.
After a few seconds, shout: "Lazarus, come out!" Lead kids in raising the parachute, coming out from under it, and waving it up and down.
How do you think Mary and Martha felt when they saw Lazarus come out? How do you think Lazarus felt when he came out of the tomb?
Get creative…
Download and print the templates below to help you draw the story, to colour a picture that reminds us that God is with us, and to remember that we can take everything that makes us sad to Jesus.
If you can't download or print these resources, you can draw your own story of the picture, colour your own picture that says "God , you are with us", and/or cut out your own tear-shaped pieces of paper and write on them whatever makes you sad, and then add the verse "Jesus Wept".